Getting the right message in front of the right audience can be tough, but this is your role as a B2B marketer. Your top priority is to capture decision-makers' attention, which can be challenging when targeting large corporations. 
This is what makes B2B advertising a must for your demand generation strategy. Hands down, LinkedIn is one of the best platforms for finding and reaching out to B2B audiences. 
The platform boasts a whopping 30 million business accounts and 63 million decision-makers, making it one of the top social channels for Fortune 500 companies. 
But the question is: is the platform worth your time?
LinkedIn accounts for 46% of the traffic going to B2B websites, and 52% of B2B buyers are using the platform, with 80% of B2B leads stemming from LinkedIn. 
So…yes.  Yes, the platform is worth your time.  Below are a few best practices for those freshening up, or getting started with LinkedIn Ads. 
5 Best Practices for Using LinkedIn Ads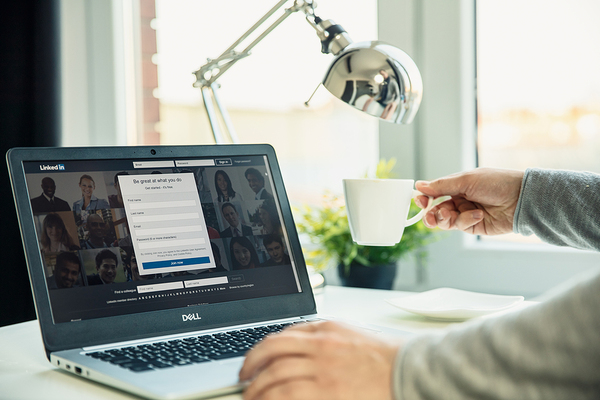 1. Don't Just Use a Single Ad Variation
To get optimal results, you want to have multiple versions of the same ad. This will improve the odds of one or more of them performing well. In this case, more variations is better – but four is a good starting point.
LinkedIn's algorithm makes it so users can only see an ad once per 24 hours. So by having four, you can increase the chances of users seeing your ads more than once daily. Four is also a good number for budgetary reasons, and it allows you to do some testing to pinpoint what makes one ad perform better than another. 
2. Test Multiple Types of Ad Formats for Your Campaign – Include Images & Videos!
Marketers understand that visuals are eye-catching. This is even more important on LinkedIn because ads with images or videos take up more real estate in users' feeds. There are a variety of ad types you can use for your LinkedIn campaign, each with their own unique value.
For example:
Sponsored Content

: These posts appear in the feed of your audience.  The best sponsored content shouldn't feel like an ad, but rather, another person in your network sharing valuable insights or content. 

Conversation Ads

: This is a newer type of ad on LinkedIn's platform, and work as a "choose your own adventure" approach.  Your brand is being represented by a bot, but the options are diverse and allows you to test multiple CTA types.  

Dynamic Ads

: Extremely customizable, with the ability to get very personalized.  Generate more followers, promote relevant job postings, share insights, or even promote gated content.  

Video Ads

: Who doesn't love video?  So why not include it in your ad strategy?  Keep it short and sweet, and include captions where possible. 

Text Ads

: This is like PPC on LinkedIn's site.  They're a little boring and won't generate many clicks, but can boost awareness when used effectively.  

Sponsored InMail: This direct message-style ad is best used for personalized messages or to start a conversation with someone outside your network.  But remember – make deposits, not withdrawals.  Nobody wants to be pitched right after an introduction.  
3. Messaging Matters 
Although your text real estate is limited, your messaging can still have a massive impact on ad engagement.  Whether the copy is in your post, on your image, spoken in your video, or sent directly to an individual, you'll have more success if you focus on the cost of the status quo vs the benefit of change.  Most people don't love the idea of change, for the sake of change.  FOMO messaging is more likely to elicit a response than something purely aspirational.
4. Stick with What Works – Promote Posts that Already Performed Well

When you create valuable content, the last thing you want to do is let it sink to the bottom of the trenches. You can continue promoting these pieces so others can find value in them as well. One option is to turn a previous, high-performing organic post into a sponsored post. This way, when others see all of the engagement, they'll be inclined to check it out.
Another method is to recycle the message or content that performed well.  If your audience saw value from it once, try updating the content or messaging and posting it again.  There's nothing wrong with touching on a topic multiple times, especially if your followers have demonstrated interest.
5. Rethink Your Downloadable Content Promotion
Ungating content is an approach that is growing in popularity.  If you're going to make this change, ensure you've got alternative methods of tracking available.  Scroll tracking/page depth is one approach – combine these metrics with your ad click-thru's to see how many people are clicking the ad to view your content, but also to see how far down the page they're scrolling. 
There is nothing wrong with gating your content, either.  LinkedIn Lead Gen Forms can be a solid alternative to 3rd party content syndication.  But one rule of thumb to keep in mind: make sure the content on the other side of the form is worth the exchange of contact information.  Most people realize that by submitting their info, they're going to get added to a marketing/sales cadence.  Make it worth their while.  
How Leadspace for Ads Can Help
Building an ad campaign on any platform can be challenging. You have to learn the rules, algorithms, and audience. With the right tools, you can simplify the process and generate positive results. 
This is what Leadspace for Ads does for B2B marketers. With this solution, you can develop and execute your entire campaign right from the platform. 
For example, you can build custom audiences, develop personalized campaigns, and activate campaigns on LinkedIn. But it's more than just an ad distributor; it also comes with powerful AI that assists with developing Ideal Customer Profiles. It can find new accounts based on look-alike modeling that fits your ICP. The in-depth analytics also makes it easier to optimize future campaigns so you can continually improve your outcomes. 
If you'd like to see how you can use Leadspace for your LinkedIn advertising campaigns, you can learn more here.