Marketing & sales operations systems are multifaceted, occupying across databases, channels and applications. Odds are that your team is using dozens of applications, each requiring different operational parameters. This brings us back to the challenges of leveraging siloed data and sharing scores and updated profiles in applications like CRM, bots, etc. While both are cumbersome processes by hand, the ability to integrate and aim them exists within certain Customer Data Platform (CDP) solutions that have application integration capabilities. With the right CDP, sales & marketing teams can seamlessly integrate data from (and to) a variety of application systems for a unified, single source of truth from which to operate from. Implementing a CDP solution doesn't just reduce the burden of doing things in separate systems – it completely streamlines your entire sales & marketing pipeline, accelerates close rates, and maximizes your downstream ROI.
But remember, not all CDPs have the same integration capabilities, so you need a way to determine which is the most qualified to incorporate the applications you use. Consider leading research and advisory companies like Forrester, who recently published The Forrester New Wave™: B2B Standalone CDPs, Q4, 2021.
In Forrester's evaluation of 14 leading B2B CDP companies, Forrester considers several factors to compare each CDP's Application Integration capabilities. In determining each solution's Application Integration, Forrester looked into the application categories and specific vendor solutions that are integrated and whether each is bi-directional, custom or native, and finally, which additional functionality is provided by these custom/native integrations. In conclusion of their evaluation, Forrester differentiated Leadspace's solution as a leader in application integration capabilities! Let's take a closer look at some of the application integrations Leadspace provides.
Leadspace has out-of-the-box native integrations for SFDC, MS Dynamics, Eloqua, Marketo, Hubspot, Pardot, Google Analytics, Adobe Analytics, SalesLoft, LiveRamp, and LinkedIn. Beyond these specific platforms, our REST API can be leveraged to push and pull data (bi-directionally) into any API-enabled system on a real time/one-off or scheduled/batch basis.
As an example of our native integration into Salesforce, check out Leadspace for Salesforce which puts the power of the Leadspace profiles, propensity to buy signals, and other relevant sales data directly into the CRM.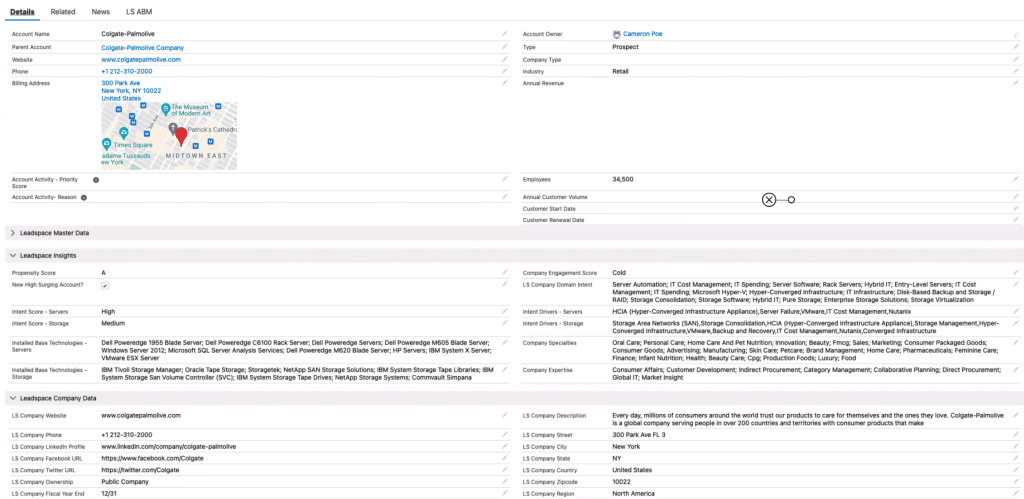 Clients can also feed data into our Ingestion API, which will support most custom data ingestion requirements (push, pull, periodic, etc). Leadspace also OEMs Dell Boomi and Tray for application and data integration connecting with our REST API. This enables us to integrate to many systems and channels seamlessly. Our Professional Services team can also develop on top of our Ingestion API to support more custom use cases.
Leadspace's solution integrates with the majority of relevant sales and marketing applications and is regularly being updated to support even more! To learn more about the benefits of implementing a CDP, and to see how Leadspace compares to other B2B CDPs in all 10 evaluated categories (and is ranked overall in the Forrester Wave), check out The Forrester New Wave™: B2B Standalone CDPs, Q4, 2021. Seamlessly integrate the power of Leadspace into your most critical applications to boost efficiency across the board with Leadspace's CDP!
If you interested in learning more about Leadspace and how we can help your business grow better – contact us!