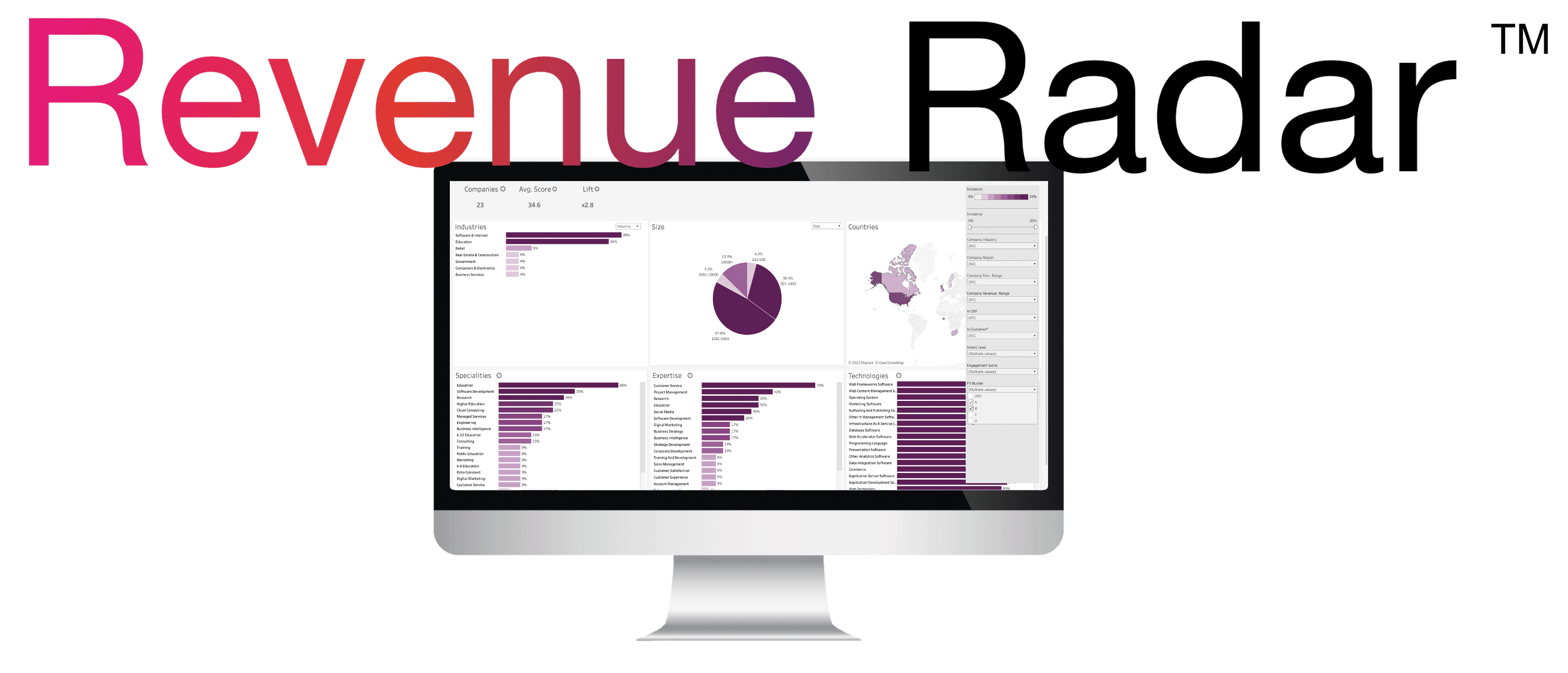 See your best targets for higher close rates at lower costs to optimize your sales & marketing ROI – leverage predictive fit, persona and intent models along with your own engagement scoring for true TAM-to-opportunity prioritization.
Our customers have seen…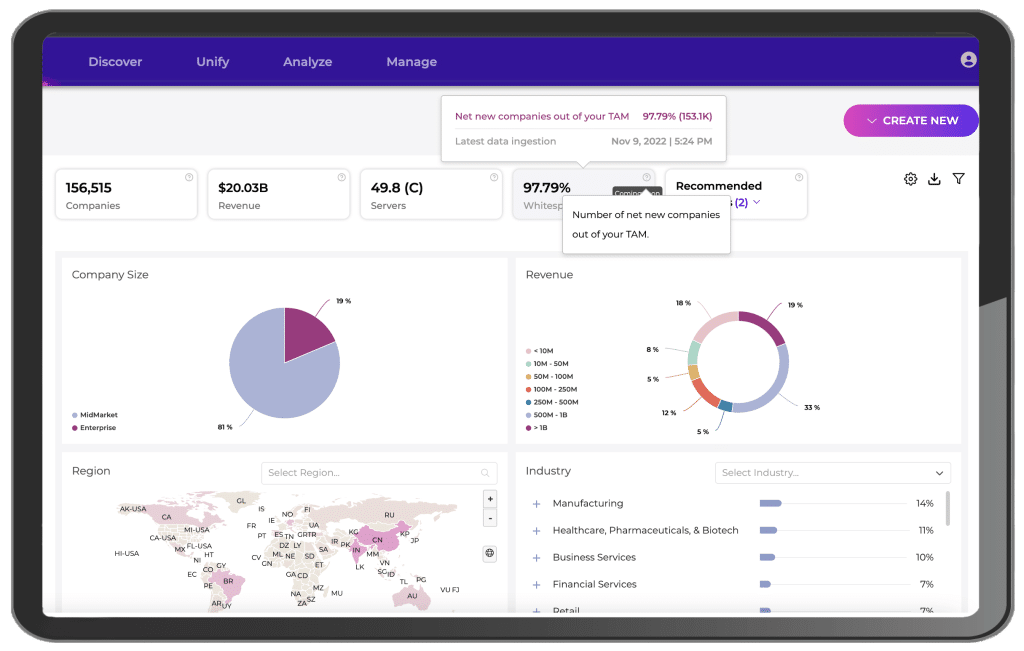 90 second enrichment, scoring and routing to sales
10,000 net-new personas in target accounts
2x increase in email reply rates
80% increase in lead funnel
57% increase in click-through rates
25% increase in Marketing Qualified Opportunities
36% reduction in cost per lead
75% increase in accepted leads
Improving the odds of closeable revenue by honing in on the right targets at the right time.
Leverage Predictive Fit, Persona and Intent models, along with your own engagement scoring, for true TAM-to-opportunity prioritization.
Get the Revenue Radar Guide Now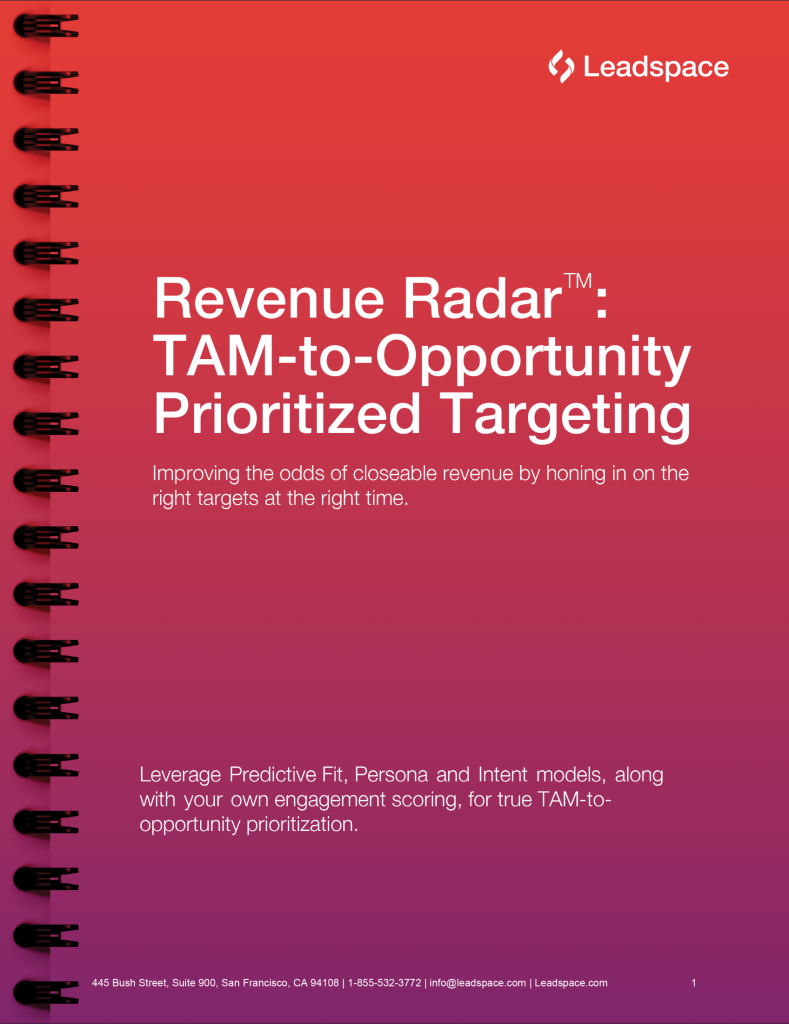 What's the fastest road to revenue?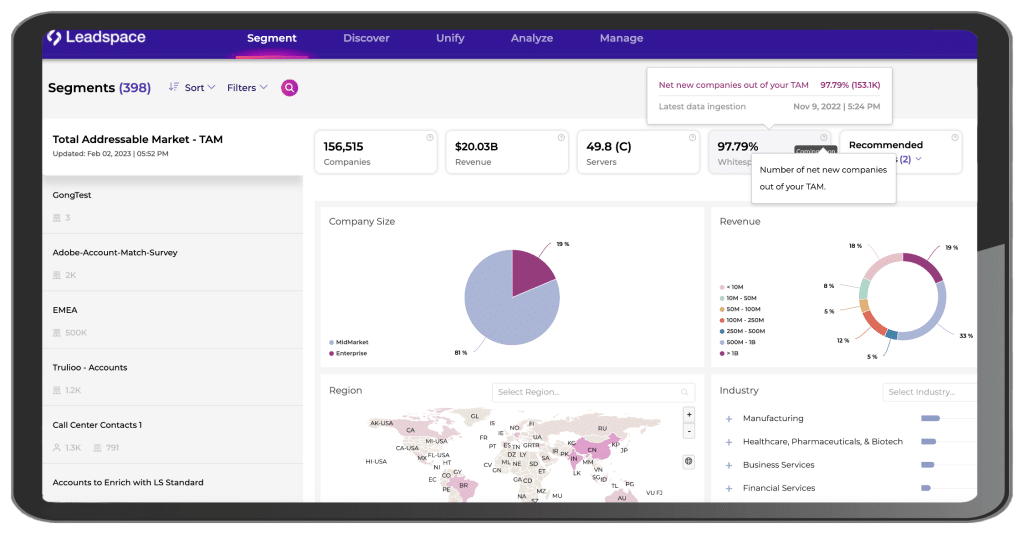 Leverage the Leadspace Revenue Radar to determine which buying centers, accounts or people to focus on based on their likelihood to buy your product. While basic or advanced profiling tools populate profiles with various types of firmographics and technographics such as company revenue, size, industry, sub industry, region, ownership, website technologies, installed base technologies, expertise, specialties, etc – Revenue Radar initiates 4 Machine Learning models to analyze them as buying signals to generate algorithmic insights and drive you directly towards closeable business.
---
A Fit / Propensity Model is built from customer's historical conversion data set (opportunities). Applies scoring that indicates a company and/or person's likelihood to be a good target buyer. Use cases includepropensity to buy,inbound lead conversion, higher LTV, upsell/cross-sell, etc.
Intent Scoring Models monitor accounts for intent (1st and/or 3rd party), and applies scoring based on the level of intent activity specific to customers' products/category.
Persona Fit Models can be built based on standard or custom persona profiles to 1) score the existing database and inbound leads based on their closest persona fit, and 2) find net-new contacts within accounts that lack the right buyers using persona targeting.
Buyer Engagement Models are built through either simple point scoring for engagement in a marketing program or interaction with website content. It is typically implemented within the Marketing Automation Platform (Marketo, Eloqua, Pardot, Hubspot, etc.) and the higher the score the more engaged the buyer.
---
Step #1: The Right Type of Company
You've already discovered your TAM and generated your buyer profiles – now you need to determine who to go after. This involves using your historical first-party data to develop an Ideal Customer Profile (ICP), then comparing it throughout your TAM with an AI-based propensity model. By determining how closely each target company matches, or fits your product, a Fit model predicts the increase or decrease in the odds of a successful conversion. This is the first stage of honing in on the best companies to target.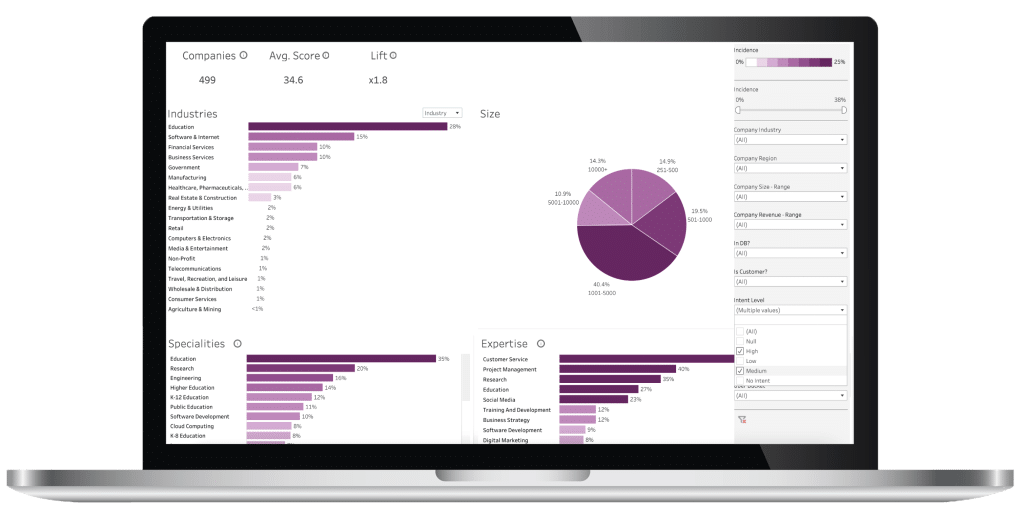 Step #2: The Right Company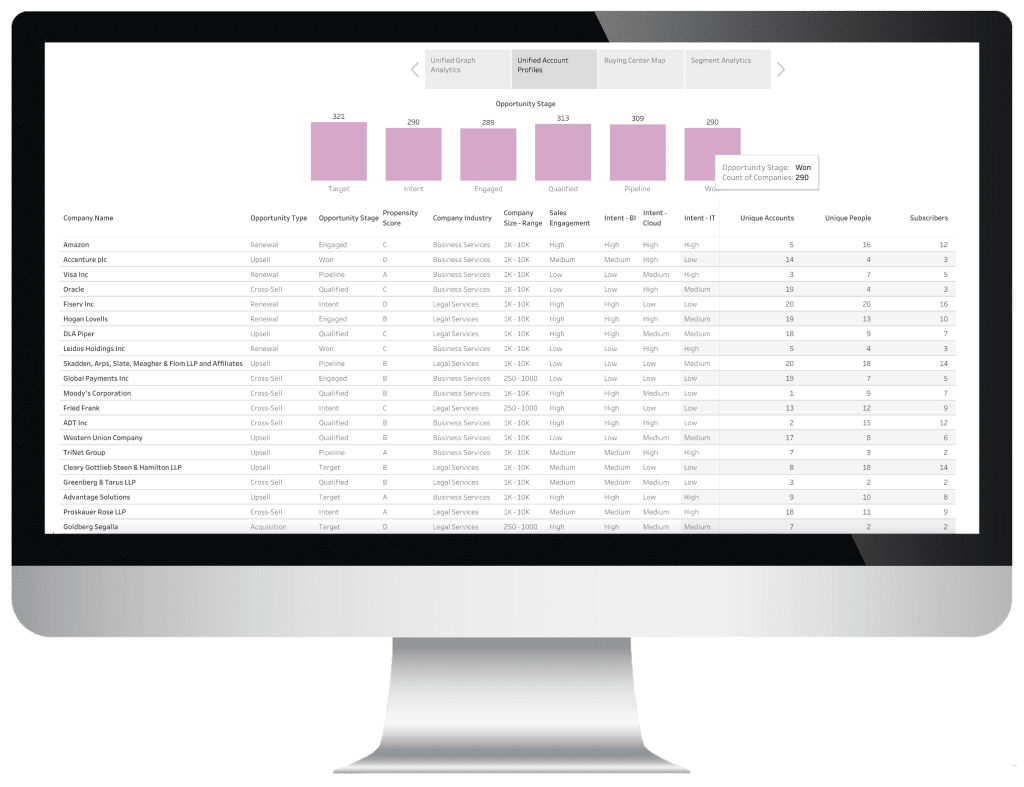 Next you need to determine which of the companies are actually ready to buy. This means determining their intent at the product level – ensuring it's the right time for the right company. We can determine intent by a company's search activities. Most of you are buying weekly intent feeds delivering the names of companies who are searching for the terms that you prioritized. Knowing that a company's employees have been actively searching in your field of expertise with either new high intent or sustained intent enables you to focus your efforts on the best companies that are truly ready to buy.
Step #3: The Right Type of Person
Now you need to figure out who are the right people to pursue within those companies by scoring their personas. Does their role at the company line up with the personas of your historical successes? Is their persona typically responsible for making decisions to buy your type of product or service? Who makes purchasing decisions at the company? Or who might see the value in your product and bring it up the chain of command quickly and effectively? With a Persona score, you can narrow in on the department, level, right job title, role or expertise to go after by identifying the right person in that company who is most likely the right contact for your type of product.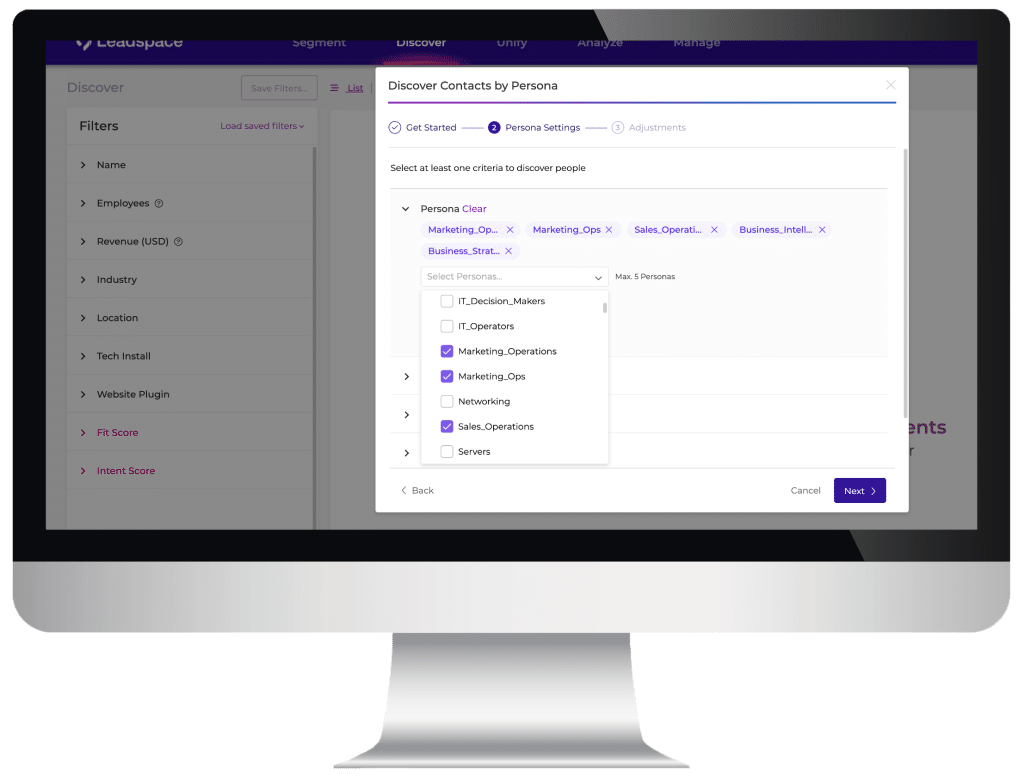 Step #4: The Right Person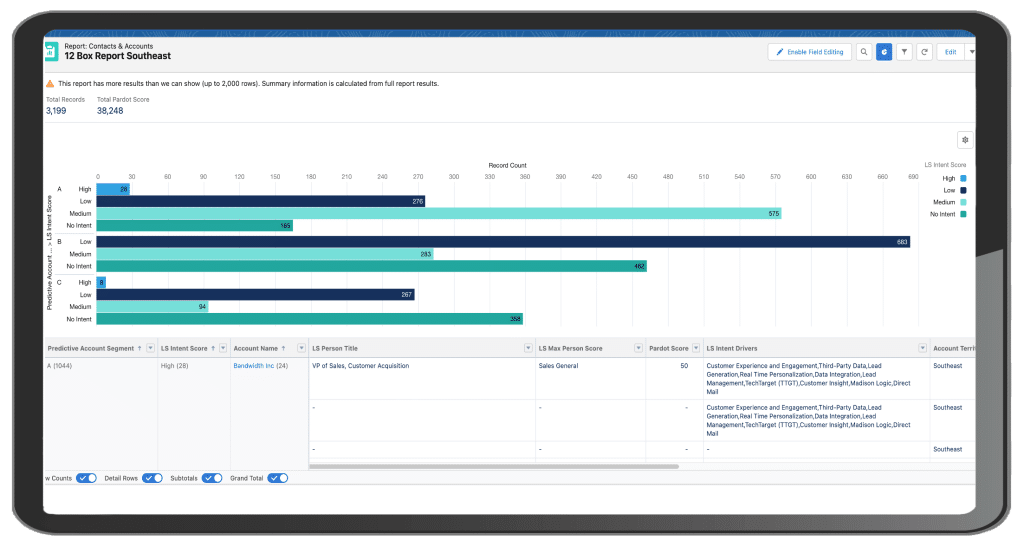 The final step in perfecting your Revenue Radar is applying an Engagement model to figure out if those personas, or specific people at the company (or buying center), are also ready to buy. This means scoring their engagement at the person-level, using your marketing automation platform – Marketo, Eloqua or Pardot for example. Has that individual been on your website? Who specifically has been searching for your type of content, or has engaged with your previous marketing efforts? With this final piece of information, you can focus on the right people from the right companies who are ready, able, and eager to buy your type of product or service – ensuring you don't waste time, money and effort chasing down leads that aren't likely to close.
---
Profile

Better

Utilize our B2B data unification and buying expertise to build closeable unified profiles. We've critically evaluated, selected and curated the industry's best third-party company and people data sources in the World. Then we unify these profiles with your first-party data to fuel your business and your B2B Buyer Graph.

Add the personal touch to your unified profiles. Create the best buyer profiles at the individual level by using personal demographics and buying behaviors from social signals and interests to assign personas instead of nondescript job titles.

Route better with the industry's best lead-to-account matching from Leadspace. Our AI-powered engine enriches and scores leads in real time with firmographic, hierarchy, intent and propensity data to intelligently fuel the most sophisticated lead management scenarios.
Target

Better

Visualize your territory, industry, and geography strategy with Leadspace Fit to identify the highest historically-returning market segments.

Leverage Leadspace TAM and ICP to understand your most attractive white space by targeting your best lookalike accounts and personas.

Take the guesswork out of identifying the top strategic accounts for investment by focusing on those who are most likely to buy your product.
Campaign

Better

Leverage Leadspace ICP and Persona to identify the right ABM accounts and fuel high-performing lists based on lookalike buyer demographics, interests and job titles.

Laser focus campaign segment members with Leadspace Persona by leveraging our 80 off-the-shelf personas or create your own custom personas. Our persona-matching scores make it easy to match content accordingly for the best program results around.

Optimize your ABM investments with Leadspace Engagement to intelligently segment your audience by channel and then activate them in Leadspace Studio for closeable demand.
Close

Better

Optimize your marketing and sales engagement with Leadspace Fit and Intent scores to prioritize the top 25% of leads that deliver 60-80% of your business.

Leverage Leadspace Engagement to populate and design customized persona-based buyer journeys and engage top prospects with relevant and compelling content through the right channel, at the right time.

Put Leadspace for Salesforce to work to deliver the right account contact details, buying signals and propensity-to-buy scores directly in front of your reps to prioritize leads and opportunities in their pipeline.
---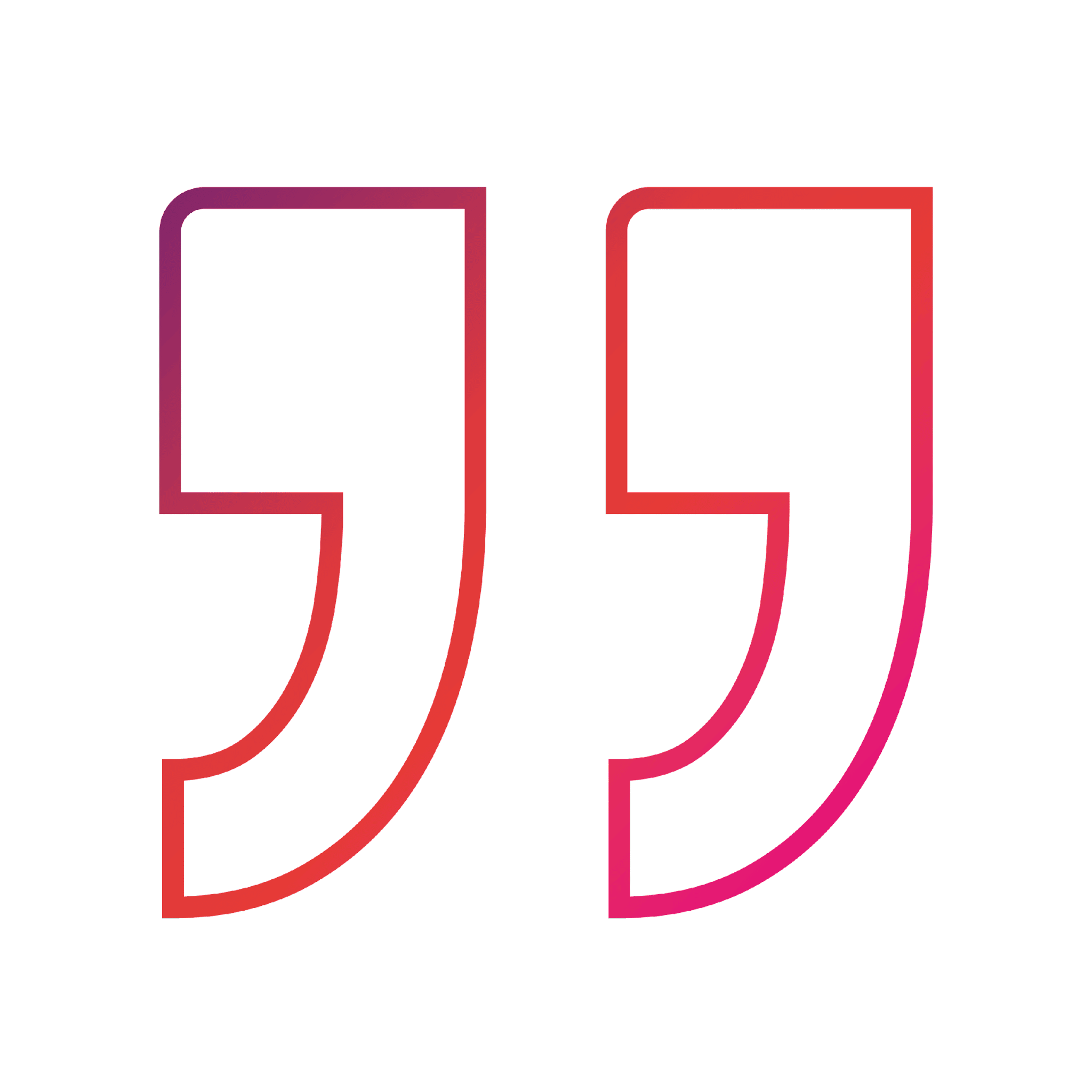 Leadspace is a TRUE data partner for our B2B Software Business.
"We have been able to validate, enrich, segment, and accurately present our datasets at the account and contact level. Our relationship started with simple data needs and turned into a true vision for our customer and prospect base."
Maximize Sales & Marketing ROI with Leadspace's Revenue Radar!
Check out the full guide, Leadspace Revenue Radar, to see how Leadspace enables the largest B2B companies to minimize spend and maximize ROI by equipping them with the tools to effectively and efficiently hone-in on the accounts and/or people with the highest propensity to buy.
Get the Revenue Radar Guide Now