With ninety percent of companies either evaluating or deploying a CDP, the question comes up as to the difference between a B2B CDP and B2C CDP. In a recent BrightTalk webinar, Amish Sheth (Leadspace VP, Solution Engineering) explored the capabilities and differences between a business-to-business customer data platform and a business-to-consumer customer data platform. What are the core functions of a CDP? What are the benefits of a B2B CDP? What are the different types of CDPs and their key use cases? What makes B2B CDPs different? How do you determine which CDP is right for your business? 
First of all, a customer data platform is personal to your organization and it's the key to defining shared customer insights. No use case is exactly the same for every company, so understanding your specific needs and use cases is a critical first step to selection.
Customer data platforms were originally designed with B2C marketers in mind, so they weren't originally set up to cater to the unique needs of B2B marketers. In B2B sales and marketing, you need to know who your best customers are, understand your sales whitespace opportunities and be able to seamlessly activate across both sales and marketing processes to personalize the end-to-end customer experience. B2B professionals need to qualify, prioritize, segment and match your inbound leads to accounts in order to optimize funnel conversion. In addition, you need to get insights and leverage AI predictive and categorization capabilities to promote customer personalization and consistent omnichannel marketing. A solid B2B CDP should be able to do all of this and it should help eliminate data silos, compiling everything into unified company and persona buyer profiles to be accessed across sales, customer support, and marketing.
A customer data platform has three core functions – profiling, segmentation and activation. It needs to build unified account and person profiles from disparate internal first party data sources including CRM, MAP, ERP transactional systems. And it needs to integrate that first party data with third party firmographics, demographics, social and intent data. The profiles need to be kept up to date so that segmentation is accurate and then activate these profiles within campaigns deployed to systems of engagement like ABM, ad platforms, sales engagement, content management, and MAP/CRM systems. Most CDPs are commercially available products. Some companies have chosen, however, to build their own.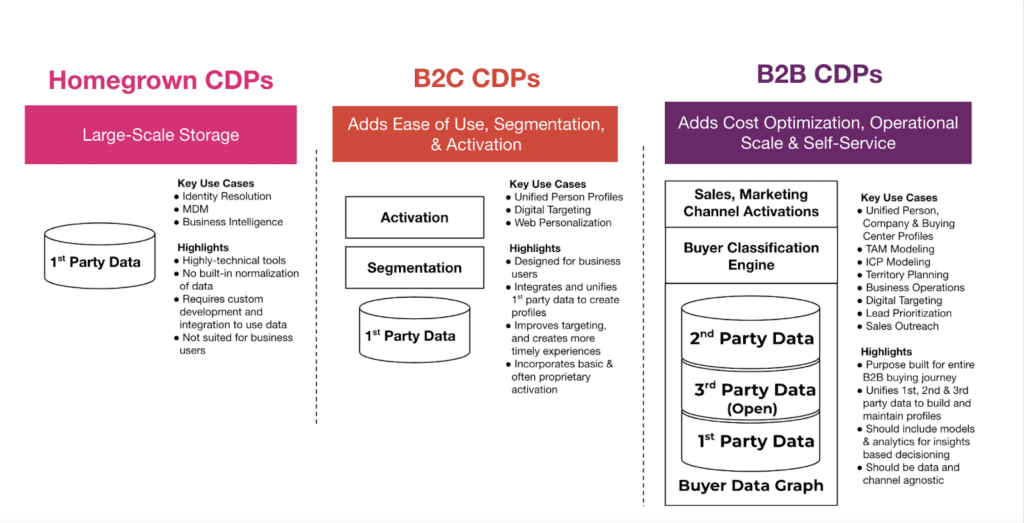 Homegrown CDPs function essentially as large-scale storage and typically focus support for first-party data. Key use cases include identity resolution, MDM, and business intelligence. These are highly technical tools that typically have no built-in normalization of data, and they require custom development and integration to use it. Homegrown CDPs are generally built and supported by IT groups and often are not suited for the ease of use necessary for business users.
B2C CDPs add ease of use, segmentation, and activation capabilities. B2C CDPs are typically limited to 1st party data. Activation and segmentation functionality makes them great for use cases such as person-level unified profiles, digital targeting, and web personalization. They're designed for business users, enabling them to integrate and unify first-party data to create profiles. B2C CDPs incorporate basic and often proprietary activation and they help to improve targeting and create more timely experiences.
B2B CDPs add company-level profiling, cost optimization, operational scale & self-service. Unlike homegrown and B2C CDPs, B2B CDPs bring third-party data into the equation to create more complete account and buyer profiles. This active profile management can be used to build predictive models and buyer classification engines to prioritize leads as well as provide sales & marketing channel activation, unification, and segmentation functionality. Key use cases of a B2B CDP include unified profiles at the person, company, and buying center levels, TAM / ICP modeling, territory planning, business operations, digital targeting, lead personalization, and sales territory creation/assignment. B2B CDPs are purpose-built for the entire business-to-business buying journey and ideal for unifying first, second, and third-party data to build and maintain profiles. They should include models and analytics for insight-based decisioning and should be completely data and channel agnostic. What makes B2B CDPs different? Active profiling management & active funnel management.
Benefits of B2B CDP span across business operations, focused GTM campaigns, and closeable demand:
40% lift in data quality
2x lead conversions
30% more pipe from target accounts
100% more opportunities
60% more pipeline from outbound programs
50% reduction in data spend
Customer Data Platforms are powerful tools, but it's important to weigh your options before making your selection. Before choosing a CDP, you must have your business priorities straight. First, clearly define your company priorities and strategy before starting vendor evaluation. Next, define the key uses and prioritize them based on potential business impact. Finally set success metrics for expected business outcomes relative to current benchmarks. For an in-depth comparison of CDPs and to gain insight into the CDP selection process, watch the BrightTalk webinar, How is a B2B CDP Different from a B2C CDP?