M&A on the rise
As a viable growth strategy, there's often an uptick in M&A after events like the 2008 recession. This looks to be ringing true as the U.S. economy rebounds from COVID-19. M&A activity set records for the first half of 2021 with deal counts up 19% from 2020 (Refinitiv). And things don't look to be slowing down.
The Goal: Growth Through Synergy
Companies enter into M&A for a variety of reasons: to diversify their service offerings or product portfolio, outpace the competition, move into new markets, or create revenue and team synergies.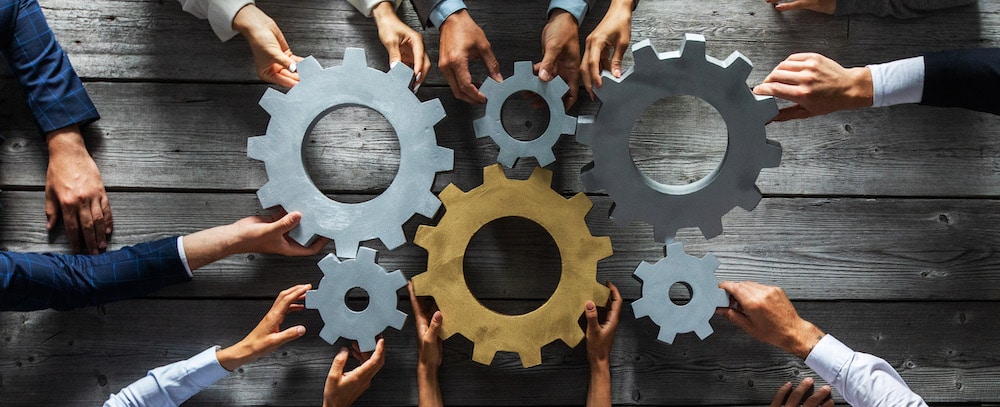 Case in Point:
I previously worked for a global CX and digital agency that wanted to become a billion dollar company. Leadership decided our primary means of scaling would be through acquiring agencies with client bases that complemented our current book of business.
We focused on agencies that had a foothold in markets outside our coverage or sold offerings that offset known weak spots. Using this approach, we were able to diversify our portfolio of offerings and bring on enterprise clients in new markets.
Expanding our client base gave us the opportunity to identify new cross-sell and upsell opportunities. We were also able to offer more competitive rates that enabled certain arms of the company to sell into clients that were already engaged with other parts of the company.
The combined company was further strengthened by the fact that along with new offerings and an expanded customer base, we had acquired new talent as well. Overall, the revenue and team synergies that came with the deal led to expedited growth for the business.
The problem is, not every deal achieves this same level of success. M&A are quite literally risky business.
The Road to Success is Littered with Failures
Studies show a whopping 70-90% of M&A fail, unable to deliver on the expected growth. This is often due to a lack of strategic awareness and planning for the complexities that go into integrating companies. Apart from making sure there's a solid plan for integrating the workforce and offering, technical considerations must also be taken into account.
The question becomes…

This Is Where a Customer Data Platform (CDP) Comes In
Companies typically have a large number of tools to drive sales and marketing motions. A CDP is essential for ensuring these systems are able to talk to each other.
During M&A, the task of integrating systems and connecting all the data becomes messier than ever before.
When merging tech stacks and datasets, you'll need to think about how to merge various audiences and segments and integrate different sales and marketing workflows and methodologies, such as territory assignments, lead management processes (scoring and routing), and customer tiering.
To ensure GTM success and a smooth customer experience, you're going to need a CDP to get this monumental job done right.
Having a handle on data hygiene and eliminating system and team silos at the outset lays the foundation as you design a joint GTM strategy, determine how to maximize new cross-sell and upsell opportunities, and deliver engaging experiences that retain customers and win deals.
How a CDP Can Help You Beat the Odds
Leadspace's self-service platform builds a unified graph specific to your business. Powerful AI and machine learning models incorporate signals from your systems of record, layering them with data points from 1st and 3rd party sources and Leadspace's 30+ embedded B2B data sources. Records from across all sources are consolidated, cleaned, enriched, and organized into unified account profiles. This results in a healthier database, with duplicates removed and incorrect information eliminated. The unified profiles are pushed back into the original systems of record, bridging the gaps in your data silos.
Data from one system can inform sales and marketing actions in another. No matter whether your teams are working in their ERP system, CRM, or MAP, they can access unified account profiles to discover relevant insights. For example, they could log into their CRM and view an event that took place in their ERP, such as a support ticket or cancellation. Or, they can view whether or not a contact is already a customer from their MAP, using information pulled from their CRM. This type of knowledge can help direct next steps and make the difference between a customer gained, retained, or lost.
The Leadspace B2B graph and AI models contextualize the unified data, providing situational awareness prior to outreach. Leadspace algorithms map your account hierarchies, drawing connections between entities for a deeper understanding of each account. Account mastering gives a clear picture of company structure from a sales and marketing perspective, identifying the best points of contact, including the buying team and key decision makers. This also enables automated lead-to-account matching so leads can be routed quickly and to the right place.
AI models sort through intent signals, historical data, install base information, and other inputs to determine which accounts are the best fit for your company so efforts can be focused in the right direction. Intent scoring, predictive scoring, and persona scoring help uncover and verify your ideal customer profile with information around who is most likely to buy your product, when they are interested, and whether they're a good fit for your offering.
Having the right CDP can help ensure you land in the minority of successful M&A.
To see how Leadspace can help your specific use case, explore our customer data platform today.