What's the difference between the B2B customer of 2021 vs. 1991? Unlike the customers of the past, today's consumers are digitized and savvy–so much so that they no longer need hand-holding from your salespeople to make buying decisions. 
When you look at the B2B buying trends over the years, you'll see your customers have become independent and reliant on the internet to conduct careful research. Your job is to help them find the information they need (and discover why you're the best option). 
Let's look at the B2B customer journey and how using a B2B customer data platform (CDP) can help. 
What Does the B2B Customer Journey Look Like Today?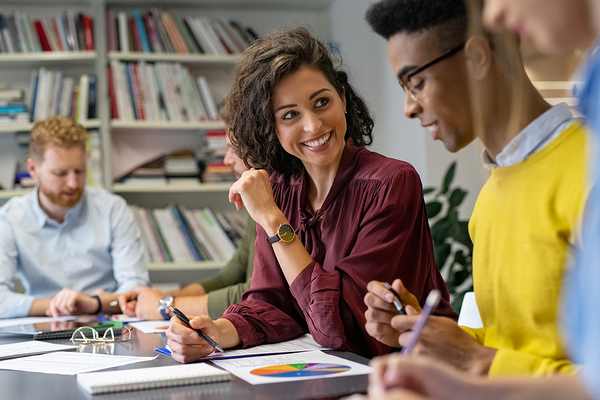 The B2B buyer journey is usually a long process. But it begins long before a prospect reaches out to your brand. Today, there's a lot of back-and-forth between the customer and brand. In fact, the length and intensity of the B2B sales process increased over time. That's because B2B consumers are spending more time and energy conducting research on vendors and products/services. 
One survey shows 27% of their time is spent on independent online research, while 17% of their time is spent meeting with prospective suppliers. In the past, most of the customer's time was spent meeting with vendors and suppliers, with little to no independent research. 
Another shift we're seeing is that B2B consumers are looking for B2C-like experiences with brands. They're demanding a great customer experience, simple website navigation, clear product details, and content to help with making a buying decision.
So your job as a vendor is to nurture them to a conversion using digital marketing techniques. In other words, you need different types of content for every stage of the sales funnel:
Content that educates them about their problem (blogs and videos)

Content that informs them about resolving the problem (how-to guides) 

Content that helps them evaluate available solutions to their problem (comparison charts and articles) 

Content that shows proof of why your solution is the answer (case studies)

Testimonials and reviews from past customers (video is best) 
What B2B Customers Expect Today
Thanks to the internet, everything about the way B2B customers engage with brands has changed. As mentioned, they're doing way more research on their own before connecting with suppliers. It's a double-edged sword. On one end, 57% of the B2B buying process is done before they reach out to you (saving you time and energy). And on the other end, customers may decide to go with a competitor without ever reaching out, giving you no chance to compete. 
According to a recent survey, B2B purchasing officers stated they prefer less human support than most sales teams assume. This further proves the desire for self-help information. 
B2B customers want convenience, flexibility, speed, and transparency, like what they get on B2C platforms. Roughly 40% of those surveyed stated slow response time with suppliers is what frustrates them. 
So what do you do as a brand to meet the needs of today's B2B buyer? Unify your data.  
Your customers no longer need you to guide them to the sale, or at least, not physically. You are, however, responsible for using your content to attract and nurture leads into a conversion. 
To do this, you're going to need to gather and analyze large amounts of data about your customers (and prospects). This is easier to do with a CDP. This platform centralizes data from all of your internal systems (as well as third-party sources). 
Then, if you choose a CDP that's AI-powered, you'll also get powerful insights to guide your marketing and sales initiatives. For example, you can automate buyer personas and the scoring of leads and accounts based on intent. This means you can identify which customers and prospects are in the market for your product. And you'll know the best time to reach out. 
Now, the goal is to deliver content to them that's personalized. You can do this by understanding what content they're consuming on your site and where they are in the buyer's journey. Marketing can then send an email with the right messaging and content to serve their needs. Then once they're ready, sales can pick up where you left off to close the deal. 
Leadspace: the B2B CDP of the Future
It's time to future-proof your B2B marketing and sales process. You can do that with Leadspace's B2B customer data platform. It's AI-powered and comes with all the automation, analytics, and data cleaning needed to keep your campaigns sharp. 
With Leadspace, you can:
Create a brand your customers will love (with the help of our AI)

Develop content tailored to your customers

Personalize content for everyone (by matching known users with anonymous users)

Use insights from customer service calls, chats, and emails to listen and lead with empathy

Engage with customers after the sale to promote brand advocacy
If you'd like to see it in action, then explore our customer data platform today!