Is there such a thing as having too many customers? Maybe so…for a small company with no intention to grow. 
But if you're like most B2B firms, then you're always on the path for expansion. Unfortunately, many B2B companies are heavily focused on lead generation. 
While this can aid in your growth, it won't do much if you're ignoring your current accounts. A high churn rate is your arch-enemy in this case. 
What can you do about it? 
After you convert leads into accounts, it's key to keep an eye on their behaviors. This way, you can time the best time to reach out to them for an upsell. 
But when you're a large corporation with thousands of customers, this can be impossible to do without AI help. With predictive scoring, you can ease this pain and get better insights into your accounts. 
What Is Predictive Scoring?
Using predictive scoring for accounts is nothing new. In the recent past (and the present for some), companies would use a rule-based scoring system inside their CRM or other marketing automation software. 
The problem with this is that it's done manually and doesn't look at reliable data. For example, scoring accounts based solely on firmographics like company size and industry doesn't really cut it in today's marketing environment.
Regardless of how many analysts you have on your team, the process is time-consuming and yields poor results, especially since this method doesn't take into account other important factors, such as:
Technologies used

Wallet size (how much budget they have to spend on your solution)

Unique specialties/expertise
With AI-powered predictive scoring, you can get a reliable set of data using both behavioral and firmographic information to score your accounts.
How Does Predictive Scoring Work?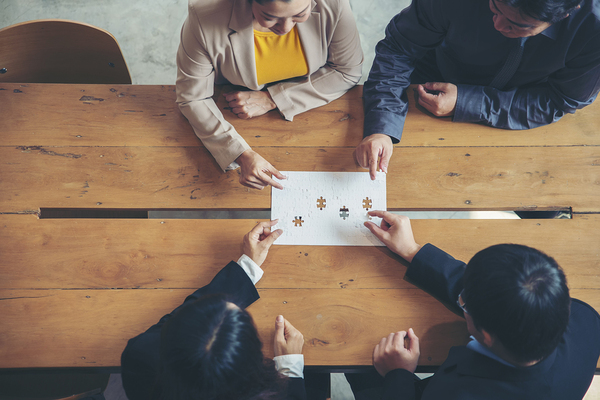 Artificial intelligence is making it easier for businesses to accommodate their leads and accounts. However, you need access to the tools that will provide relevant data. 
A customer data platform that uses AI predictive scoring is becoming more of a must-have than a nice-to-have. Let's take a look at how a CDP can help your ABM strategy. 
What Makes a CDP the "Right" Tool for Predictive Scoring?
It's easy to find a customer data platform for B2C companies, but quite a bit harder to find one that works well for B2B. In fact, many B2B companies still don't have one because they're unaware there's a tool designed specifically for their needs. 
With a CDP like Leadspace, you get all the elements needed to create a strong B2B predictive scoring strategy:
Clean, quality data

: No more wasted time (and storage space) on accounts with inaccurate details.

Data enrichment

: Add missing information to your accounts using 1st, 2nd, and 3rd party sources. 

Data unification

: Marketing and sales alignment is a must to ensure leads and accounts move through the sales funnel seamlessly.

Predictive technology

: Know the best time to reach out to leads and accounts to nurture and/or convert them.
Next, let's review how you can use predictive scoring to benefit your ABM strategies. 
How to Use Predictive Scoring for ABM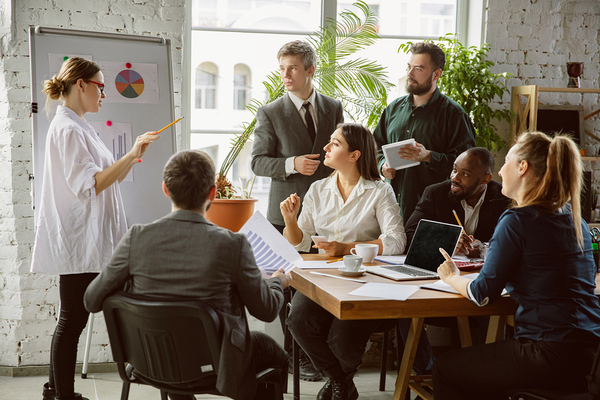 It all starts with segmenting your accounts. You can set up your parameters for the CDP to analyze your best accounts that:
Perform specific behaviors

Buy specific products
With the first segment, you can identify accounts based on their behaviors and firmographic data. You can then find trends and commonalities that enable you to find accounts that are on the same path, so you can target them. 
Then with the second segment, you're also targeting similar behaviors, but this time, product-based clusters. Tying this together with key firmographic details can help pinpoint accounts that are likely to buy the same products in the future. 
This makes upselling and cross-selling a breeze for your marketing and sales teams. You'll empower them to act at the right time with the right messaging to drive leads and accounts through the sales cycle. 
Transform Your ABM Strategy with Predictive Scoring
It's not enough to collect information about your accounts. If you're not using AI to analyze and score your accounts, then your marketing and sales teams will continue throwing daggers in the dark. 
Instead, you can enlighten your teams with predictive scoring models, which will empower them to make informed marketing and sales decisions. 
Enjoy your free B2B Predictive Scoring Model, which you can find here.
There will be no more guessing whether a lead or account will be interested in a product, and no more using gut feelings to decide when to reach out to an interested lead or to re-engage an account. 
With the help of Leadspace, you can transform your ABM strategy and improve its results. 
If you'd like to learn how it works in real life, 
read the Sovos case study to learn more about Leadspace predictive modeling today!