The way B2B customers navigate the buyer's journey is changing. No longer do they rely on a single information channel — a salesperson, peer groups, or even your website — to determine whether or not to purchase. 
They're all over the place searching (and researching) the best products to buy. This consists of using all available channels including social media, blogs, analyst reports, online reviews, company websites, chatbots and more. 
More than ever before, B2B marketers need to reach customers wherever they are. But how do you do this effectively? How can you incorporate an omnichannel approach into your B2B marketing strategy?
Omnichannel vs. Multichannel Marketing: What's the Difference?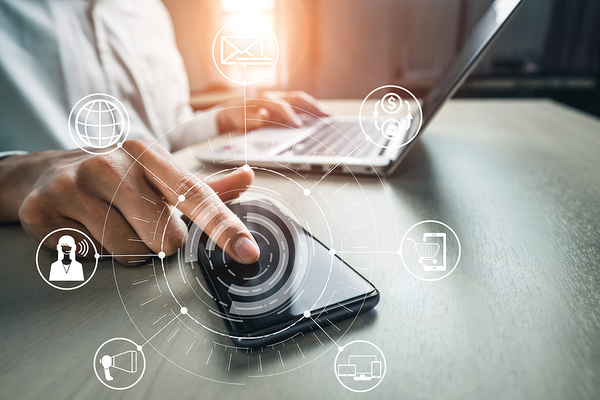 You hear these marketing buzzwords all over blogs, TED Talks, and anywhere else you'll find experts in the game. But what's required to create B2B omnichannel marketing and how does it differ from multichannel marketing?
In a nutshell:
Omnichannel marketing is about delivering a consistent, personalized experience to customers across all channels and devices they use. 

Multichannel marketing uses various channels to deliver marketing messages — social media, direct mail, physical locations, and mobile devices.
Sure, they sound similar, but the key difference is that omnichannel creates synergy between channels. Multichannel marketing, on the other hand, uses each channel separately. So the customers' experience varies depending on the channel. 
Omnichannel focuses on identifying customers across these channels and ensuring a seamless experience. For instance, omnichannel marketing focuses on the buyer   (not the channel). Every channel delivers consistent engagement with the brand. 
With multichannel marketing, each channel acts as its own unique traffic-driving machine. They all have different goals and strategies, which can make the experience impersonal and confusing for the customer. 
Now, why is this important?
Businesses with omnichannel marketing have 

91% higher customer retention rates

. 

90% of Americans

 switch between devices throughout the day.

Campaigns with four or more digital channels perform 300% better than those with single or dual-channel campaigns (according to Gartner Research). 
If that isn't impressive enough, then let's check out the benefits of using B2B omnichannel marketing. 
What Are the Key Benefits of Adopting B2B Omnichannel Marketing?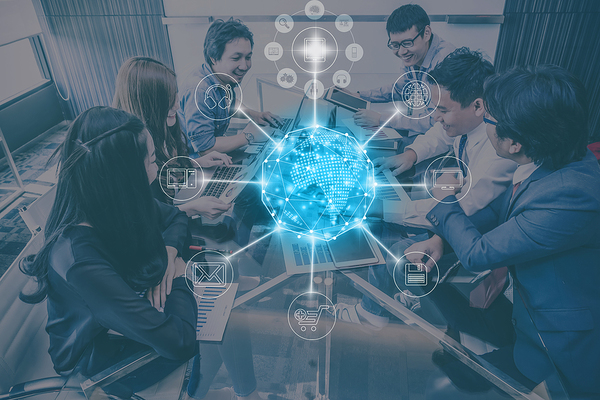 Deciding on the best B2B go-to-market strategy for your company can be tough. So it's good to research the possible outcomes of the techniques you intend to use. Here's a look at some of the benefits B2B companies find when adopting the omnichannel approach. 
Improve your data collection (and analysis)
Imagine the amount of valuable data you'll collect if you're gathering information from multiple channels. This means you can learn from advertising metrics, website behavior, email engagement, social media activity, sales development/inside sales calls and emails, sales interactions, and so on. You'll see where your message resonates, and where it needs work, and what part of the journey needs the most attention. 
With all of this intel, you can create a 360-degree view of your leads and accounts. In other words, you can deepen your conversions by analyzing customer behaviors, intent, and interests. 
Enhance collaboration between channels (and departments)
It's typical to have different teams working on social media, email campaigns, blog content, and online chat. But what if you created a way for everyone to collaborate, sharing resources and knowledge? 
This will enable your teams to connect conversations across channels and deliver the personalized experience they desire. But this requires an integrated process (and a single source of  truth for data) to pull off. 
Build better customer segments and campaigns
Knowing the intent of your customers is possible using the right data. Omnichannel delivers vast amounts of data on each of your customers. Taking this information and creating highly-targeted campaigns can potentially increase conversion rates. 
For instance, if a company is an existing customer and downloads an educational e-book from your website, then a sales development rep shouldn't follow-up on a lead pitching them a product they already own and use. 
Increase your ROI potential
As you're enhancing your omnichannel marketing, you're going to delight your customers. With this comes more conversions and higher retention rates. 
What Are the Essential Steps in the Process?
Now, it's time to build your omnichannel marketing strategy. What are the essential steps you'll need to take to make it work?
Here's a quick overview:
Perform thorough data-driven research to better understand your target audience. 

Develop unified customer profiles and detailed buyer personas.

Segment your audience to personalize your messaging for each group.

Map out your customer's journey (there may be multiple variations based on the segment).

Align content with the

buyer segments

 you've created for each stage of the buyer's journey.

Select the best channels to use to target your audience.

Invest in improving your customer support (be everywhere — social, online chat, email, text).

Measure all of your campaigns and efforts.

Use insights from your reports (and teams) to continue improving your buying experience.
How Leadspace Can Help Your Omnichannel Strategy
If there's anything you'll learn about omnichannel, it's that it takes lots of the right customer data to develop a seamless experience. This means you need the right components under the hood to make your campaigns work. 
With Leadspace, you can get a customer data platform (CDP) and the activations to make this happen. Our platform integrates with your other sales and marketing tools, using a single source of truth to power your sales, marketing, and customer support efforts across channels. 
If you're ready to take your B2B strategy to the next level with omnichannel marketing, then it's time to revolutionize the way you use data.